Top Selling Trans Stars of the First Quarter of 2023   
Jade Venus continues her reign as the top selling transgender porn star on the VOD theater for the first quarter of 2023 after closing out last year with the top spot in both Q4 and 2022 overall. Jade has been a staple of the Top 10 since debuting in 2020. She's been nominated for numerous industry awards and starred in dozens of films.  
Runner up Ariel Demure has been a regular feature of the top 10, making consistent appearances on the list each quarter since Q2 2021. The charismatic beauty has graced the boxcovers of many of the films she's starred in and racked up multiple nominations for her performances.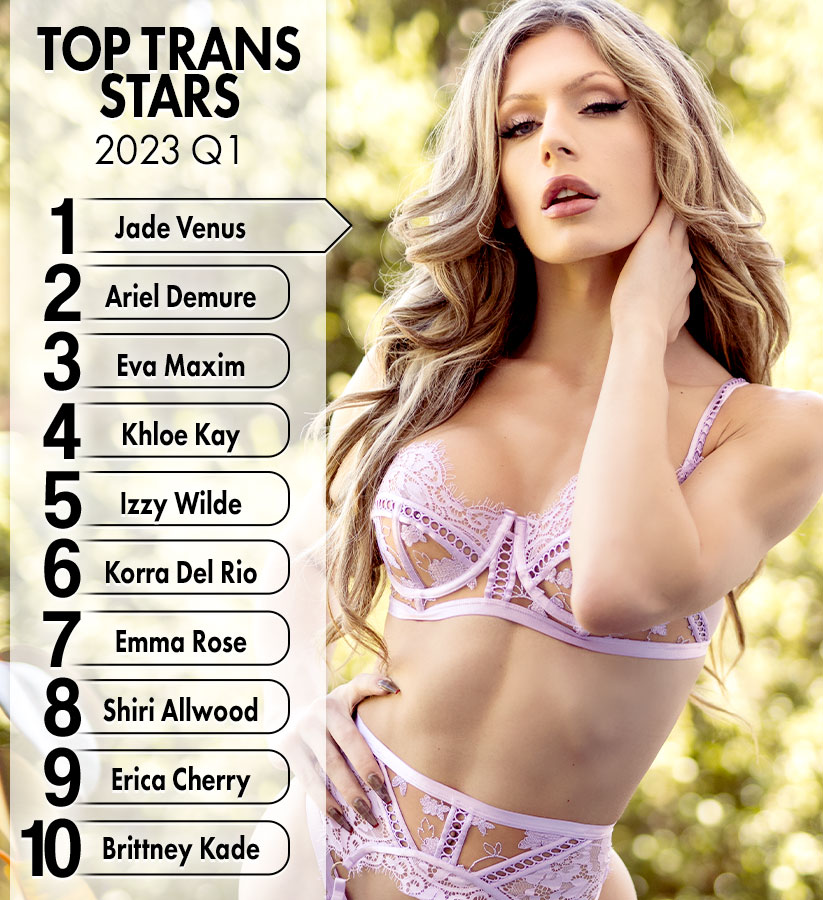 The full top 10 consists of Jade Venus, Ariel Demure, Eva Maxim, Khloe Kay, Izzy Wilde, Korra Del Rio, Emma Rose, Shiri Allwood, Erica Cherry, and Brittney Kade. 
AEBN Top Trans Porn Stars Ranked By Sales Volume
| | |
| --- | --- |
| RANK | TRANS STARS |
| 1 | Jade Venus |
| 2 | Ariel Demure |
| 3 | Eva Maxim |
| 4 | Khloe Kay |
| 5 | Izzy Wilde |
| 6 | Korra Del Rio |
| 7 | Emma Rose |
| 8 | Shiri Allwood |
| 9 | Erica Cherry |
| 10 | Brittney Kade |
Explore the Transsexual category here.
More information about how this data is compiled can be found in the FAQ section. If you have any questions or would like to request data, please send an email to contactus@aebn.net.
Since 1999, AEBN (Adult Entertainment Broadcast Network) has offered adult video on demand to consumers through a worldwide network of Affiliate Partners. AEBN maintains distribution rights through thousands of Content Partners, ensuring fans access to a vast library of full-length adult titles, offering straight, gay, fetish, and niche content.
To learn more about AEBN, please visit AEBN.com.